Well, a few minutes ago I was eating something left from dinner when I happened to spot a little tiny piece of seasoning/mushroom residue.
I know, nothing special. But LOOK at what it looks like: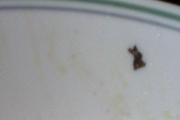 A really tiny itty-bitty little bunny/rabbit~
SO anyway that gave me an idea for a fun blog post x3 does anyone else here ever see little bunnies or rabbits in random things?