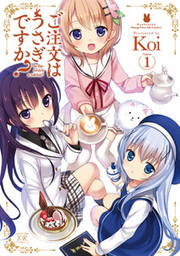 Volume 1 of
Is the Order a Rabbit?
was serialized in the seinen manga magazine
Manga Time Kirara Max
starting in March 2011. The release date for the official first volume was on February 27, 2012.
It was followed by two volumes and two anime series.
Kokoa Hoto moves into the home of Chino and her grandfather, a white fluffy rabbit named Tippy. To pay for allowing her to stay there, she works in their cafe, Rabbit House.
Kokoa is lost and stumbles upon the Rabbit House cafe while searching for her host family. Fortunately Rabbit House is run by the Kafu family which indeed is Kokoa's host family. There she meets Rize Tedeza, a part time worker at the cafe. Eventually Kokoa joins Chino and Rize and helps run Rabbit House.
Chino's eyes are more blue on the manga cover, while in the anime, they seem to be a light periwinkle tone.
Kokoa's hair is shown to be shorter in the manga.
Ad blocker interference detected!
Wikia is a free-to-use site that makes money from advertising. We have a modified experience for viewers using ad blockers

Wikia is not accessible if you've made further modifications. Remove the custom ad blocker rule(s) and the page will load as expected.