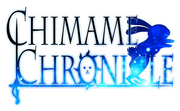 Chimame Chronicle
was a gochiusa RPG game which was released on 1 April 2017 (
April Fools' Day
).
The protagonist of Chimame Chronicle was Chimame-Tai (Chino,Maya and Megu).
The game possessed two main features ─ Quest List and Gacha.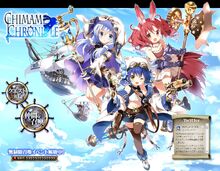 Quest List
Edit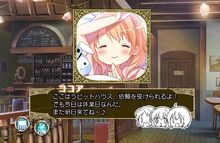 Quest was not available on the first day of release because the guild (Rabbit House) was on holiday.

On the first day of release, players had unlimited of coffee stone such that players could roll as much as they can.
The gacha pool contained 13 cards which are shown below.
Wallpaper
Edit
Players can get one of four wallpapers if they manage to roll 3 gold Tippy Coin in Gacha.
Chimame Chronicle was the third gochiusa April fools joke, after Mahou Shoujo Chino (2015) and Phantom Thief Lapin (2016).
Ad blocker interference detected!
Wikia is a free-to-use site that makes money from advertising. We have a modified experience for viewers using ad blockers

Wikia is not accessible if you've made further modifications. Remove the custom ad blocker rule(s) and the page will load as expected.