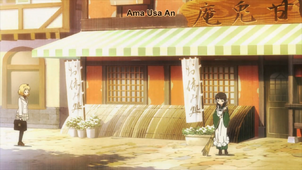 Ama Usa An
is a Japanese sweet shop and cafe run by
Chiya
and her family. It is also the Ujimatsu home and next to
Sharo Kirima's house
.
Their mascot is currently Chiya's pet rabbit, Anko.
The outside of Ama Usa An resembles most old-fashioned asiam shops. The building is a vibrant orange with brown wood detailing and paneled windows. Potted plants decorate the area, along with banners covered in writing to match the big wooden sign set above the striped awning.
Background
Edit
Waitresses wear formal kimono gowns in a variety of colors and pair it with boots and frilly aprons. Chiya Ujimatsu often wears a green variation at all times outside of school or when not in casual attire. 
Chronology
Edit
Ad blocker interference detected!
Wikia is a free-to-use site that makes money from advertising. We have a modified experience for viewers using ad blockers

Wikia is not accessible if you've made further modifications. Remove the custom ad blocker rule(s) and the page will load as expected.